Columbus Concrete Driveway Contractor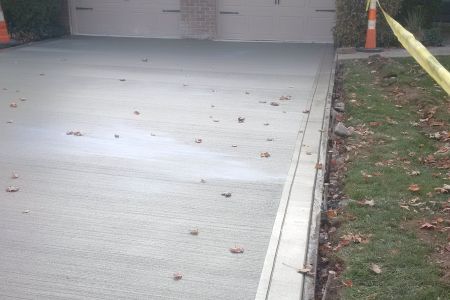 Concrete driveways are a perfect way to improve the curb appeal of your home, as well as make access to your garage or covered parking as easy as possible. Our Columbus concrete driveways are available in a variety of stamp and color choices to match your home or design preferences.
There are numerous reasons why you need to let the Gaddis & Son, Inc. team take care of installing your concrete driveway. Anything less than the best for this type of work will lead to cracks and other repair need problems. Not to mention if not planned correctly it can collect water or send water towards the foundation of your home. Don't find out the hard way you should have gone with another contractor; trust the best from the start.
We believe in building strategic relationships and partnering (when necessary) to accomplish the project. Our knowledge of the work enables our company to offer our clients the greatest value for dollars spent.
Our Columbus Concrete Contractors Provide:
Driveway Installations
Concrete Driveways
Driveway Resurfacing
Driveway Sealing
Driveway Estimates
Driveway Repairs
Driveway Designs
New Driveways
Driveway Ideas
Photos of Driveway Repair & Construction
Why Columbus Should Hire Us For Their Concrete Driveways
Gaddis & Son, Inc. is a Columbus concrete contractor specialized in concrete and site construction. Since 1971 we have successfully completed over 2000 projects in the greater Columbus metropolitan area in the commercial arenas. We provide quality concrete construction, products, and construcion services. These projects range in size and scope from minor concrete repairs to complex infrastructure reconstruction and improvements. Typically we build curbs, walks, pavement, footers and slabs.
Our customers are industrial and commercial clients, state, federal and local government agencies, real estate property managers and developers. Our services range from the repair of existing infrastructure to new construction. Our strengths are the knowledge of our experienced staff, our ability to meet the client's needs by employing skilled workers, and the timely execution of scheduled work.
We Provide Concrete Driveways In The Following Areas
Delaware County — Fairfield County — Franklin County — Licking County — Madison County — Pickaway County — Union County
Bexley, OH | Blacklick, OH | Canal Winchester, OH | Columbus, OH | Dublin, OH | Gahanna, OH | Galloway, OH | Grandview Heights, OH | Grove City, OH | Groveport, OH | Hilliard, OH | New Albany, OH | Pataskala, OH | Pickerington, OH | Plain City, OH | Reynoldsburg, OH | Upper Arlington, OH | Westerville, OH | Whitehall, OH | Worthington, OH If you are looking for Columbus Ohio concrete
Driveway

specialists then please call (614) 252-3109 or complete our online request form.