Dublin, OH Concrete Contractors For Professional Concrete Repair & Other Concrete Services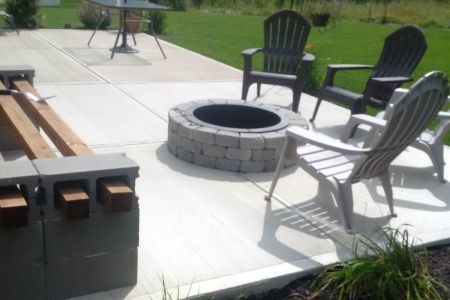 As Dublin's area professional concrete contractors, Gaddis & Son, Inc. specializes in concrete and site construction. We have completed thousands of projects in the greater Columbus metro area for commercial entities since 1971 and continue to provide quality concrete construction, products, and constructions services.
When you call on us at Gaddis & Son, Inc., you'll have a company who is interested in building a strategic relationship and partnering with you where necessary to accomplish your projects. You'll have our years of experience to rely on, which will ensure your concrete projects are handled professionally every step of the way. Whether you have small concrete repair needs or have large projects that need our expertise, we're here for you!
Dublin's Favorite Concrete Repair & Installation Company
We commonly service:
Commercial Property Owners
Industrial Clients
State Government Agenciees
Federal Government Agencies
Local Municipalities
Educational Facilities
Large Retail Centers
Small Retail Centers
No matter the type of commercial business property you own, or what type of government building you're responsible for, you'll love our concrete services at Gaddis & Son, Inc. With over forty years in the industry, we have our act together and deliver you everything your looking for to make your projects go smoothly and finish on time.
Plus, you can't get better than our expert craftsmanship and expertise at handling our crew. From start to finish, your concrete repair, replacement, or new installation projects will go smoothly with problems handled quickly by our supervised team.
Decorative & Stamped Concrete
As experienced, professional concrete contractors in the Dublin area, we have a lot of experience working with our favorite substance -concrete! And over the years we've become quite adept at decorating concrete for homes and businesses in the area. We've done some beautiful work that's really great looking, so give us a call and let us show you what we can do for you!
Keeping Up With Your Dublin Concrete – Concrete Restoration Services
We can help you restore your concrete via a variety of ways, so give us a call because it may not be as difficult or costly as you think. You'll always get an honest quote from Gaddis & Son, Inc., where we strive for perfection in our concrete work and care about our customers.
Reviews and Testimonials for Gaddis & Son, Inc. in Dublin
Mr. Gaddis, I wanted to take time to thank you for a great job installing a brand new concrete sidewalk at our Dublin Baptist Church last spring. Your crews and the quality of work were very professional. The customer service was very friendly. We also appreciate that your company was able to accommodate our busy schedule. The work was completed in a timely fashion and did not interrupt any events that we had going on. Both the sidewalk and grading around the sidewalk looks great. We would recommend Gaddis and Sons for future work here at the church or to others who are interested in any concrete work. If you are looking for a Dublin, OH Concrete Contractor for Concrete Repairs or other services, please call Gaddis & Son, Inc. at
(614) 252-3109

or fill out our online request form.