Professional Groveport Concrete Contractor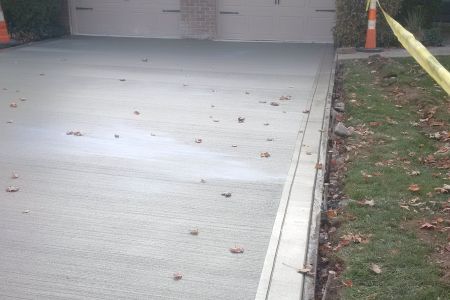 At Gaddis & Son, Inc. we have put a great deal of effort into earning our reputation for being number one when it comes to Groveport concrete contractor services. After being in business for over 40 years we are proud to say we have learned so much about the field and the customers and pride ourselves on staying on the cusp of new innovations in the industry. The bottom line is that whatever it is you need for this type of service we can take care of it for you.
An example of the superior work we provide is our professional restoration service. This type of repair, restoration and maintenance is generally more cost effective than total replacement. And whenever probable that is the direction we will take. We want to be able to save you money and time when it comes to completing your project.
For those who don't know, restoration is the method of fixing broken concrete as well as cleaning it. Finally, a seal is also applied for future protection. It all depends on the damage level on how we can proceed. Cracks may be filled with epoxy or more in-depth damage may require resurfacing. But we will always take the smartest route for your project based on what will work best or what you want done.  
Concrete Contractor in Groveport
There are countless reasons restoration of concrete should be done. And, as the top concrete repair contractor in Groveport, the team here at Gaddis & Son, Inc. has carried out well over 2,000 successful projects since 1971, when the company was first established. We can certainly appreciate the importance of quality concrete restoration.
First and foremost, this type of work obviously improves the overall cosmetic look of the concrete. But more importantly it helps restore the integrity of the structure. Cracks can quickly progress and lead to breaking and crumbling. The last thing you want is for your concrete to become unsafe and an even bigger and more costly problem.
Groveport Decorative Concrete
Part of the variety of services we offer includes Groveport decorative concrete. This approach is for projects that could use a better look than standard grey concrete. Imagine being able to create the patio of your dreams with stunning looking floors instead of the usual concrete look.
At Gaddis & Son, Inc. we have the best of the best for stamped concrete in a variety of colors and with your choice of finish. We look forward to having the opportunity to meet with you and show you in person your options for this or any of the projects you may need completed. For your Groveport concrete contractor never settle for less than the best. If you are looking for a concrete contractor in Groveport, please call Gaddis & Son, Inc. at (614) 252-3109 or fill out our online request form.