Need Qualified Concrete Contractors?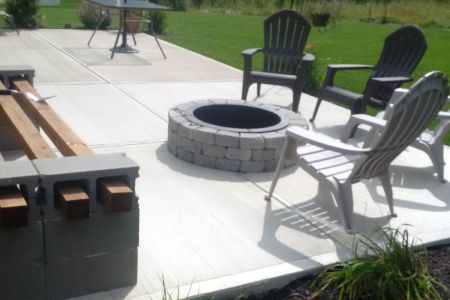 When it comes to your Hilliard concrete contractor services you should already know the name to trust is Gaddis & Son, Inc.. Since first launching the business in 1971 we have been working hard to make sure locals know we are the company to rely on. You have probably already seen some of our work, without even realizing it.
Over the course of the past four decades we have already completed 2,000 successful jobs in the greater Columbus area and surrounding areas.  All while also earning and maintaining our A+ rating with zero complaints as an Accredited Contractor with the BBB. Our steadfast focus on delivering the best quality in concrete construction, products and related services has stayed the same all these years, too.
We are able to offer of a wide variety of jobs from repairing inconsequential concrete problems to complicated reconstruction and even new installation. Every day we are out there taking care of tasks like building steps, walkways, driveways, patios and slabs just to name a few. Contact us now so we can get started on your project right away.
Concrete Repairs in Hilliard
One of the common jobs we take care of is the concrete restoration job. As the top pick for a concrete repair contractor in Hilliard our crew here at Gaddis & Son, Inc. focuses a lot of this type of work. That is because restoration is a preferred approach over options like replacement. For one thing this helps take care of making the area look better cosmetically.
More importantly it will help to improve the structural integrity of the concrete. If you have a walkway made of concrete you know what happens once it begins to crack. Eventually the cracks become splits and chunks start to fall away. Then it becomes a much more costly project to fix. Not to mention it becomes a safety hazard and liability.
Hilliard Decorative Concrete
One of our other areas of expertise if Hilliard decorative concrete and repairs. We provide superior level decorative concrete which is stamped and available in a variety of colors. Plus you can choose the finish you want for your surfacing.
There is no excuse for settling for less than the most elegant looking surface instead of dismal grey concrete. We can show you the options that are available and help you make the best choice for your project. Let's get started on your task so we can show you firsthand what makes us the best Hilliard concrete contractor around. If you are looking for a concrete contractor in Hilliard, please call Gaddis & Son, Inc. at (614) 252-3109 or fill out our online request form.