Plain City Concrete Contractor You Can Depend On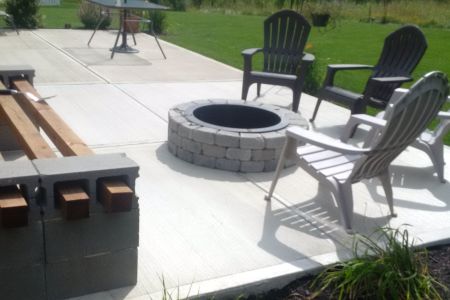 If you're looking for the best concrete contractor in Plain City, look no further! We're the most reliable, dependable, and trustworthy concrete contractor for all of your construction needs. We offer a wide variety of services to serve our loyal customers, including concrete installation, driveway washing, exterior painting, house washing, interior painting, pressure washing, sheds built on site, sidewalk cleaning, tile installation, and wood fence installation.
For all of your construction needs, painting services, and pressure washing maintenance, call the most trusted concrete contractor in Plain City - our local small company here at Gaddis & Son, Inc.. To schedule your routine maintenance pressure washing appointments, exterior or interior painting projects, or construction services, reach us at 614-252-3109. Our dedication to excellence in everything we do guarantees customer satisfaction no matter the size or nature of the work we take on.
The Best Concrete Installation Service in Plain City
When you need a pad, driveway, or walkway installed on your residential or commercial property, trust our local experts here at Gaddis & Son, Inc. to get the job done right. We pride ourselves on offering the elite concrete installation service for all of Plain City, ready and able to take on projects of any size. Leave the work to the best concrete contractor in the area and avoid all risk of injury by trusting our experienced staff to handle the job for you.
Adding a concrete installation such as a driveway, walkway, or pad adds utility value to your home or business property in Plain City. Increase the worth of what you own by taking advantage of this premier service. We take the time and effort to ensure that you get beautiful results and enhanced transportation capacity on your valuable property.
Concrete Patio Installation in Herbon
Elevate your outdoor living space with our top-notch concrete patio installation service in Herbonio. A well-designed concrete patio not only enhances the beauty of your backyard but also creates a functional and durable area for relaxation, entertainment, and family gatherings. Our skilled team of professionals is dedicated to bringing your vision to life while ensuring the highest standards of quality and craftsmanship.
At our Herbon concrete patio installation service, we understand that every homeowner has unique preferences and needs. That's why we begin every project with a comprehensive consultation to discuss your ideas, assess your outdoor space, and provide expert recommendations. Whether you desire a simple, minimalist patio or a more intricate design with decorative concrete finishes, we have the expertise to deliver. Our concrete patio installations are built to withstand the ever-changing Herbon weather, providing you with a long-lasting outdoor retreat. From the initial planning stages to the final pour and finishing touches, we are committed to delivering a concrete patio that adds value to your home and endless enjoyment to your outdoor lifestyle. Contact us today to schedule a consultation and let us transform your Herbon backyard into a beautiful, functional oasis with our concrete patio installation services. If you are looking for a concrete contractor in Plain City, please call Gaddis & Son, Inc. at
614-252-3109

or fill out our online request form.