3 Affordable Concrete Patio Design Ideas For Your Columbus Home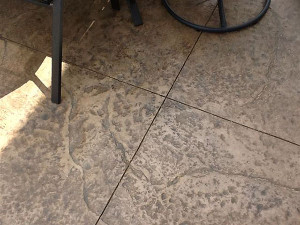 Concrete can make a wonderful patio material for any Columbus home because it's affordable and lasts a really long time. The problem with a plain concrete patio is how hard it is to get creative with the design. The good news is there're many ways to turn a simple concrete patio design into something amazing!
Our Columbus concrete contractors at Gaddis & Son, Inc. suggest these 3 simple and affordable concrete patio design ideas to help get your creative juices flowing. If you need further help, let us know!
Decorated Concrete Patios|Custom Design Without The High Price Tag
Decorative concrete can give you a custom patio look at a much more affordable price than if your patio was made of real natural stone. Stamped concrete patios can be custom designed to look like all types of natural stone, brick, or wood.
Do you have a traditional style home? Ask your a Columbus concrete contractor for a barn wood plank patio which looks like weathered wood planks. Or, stamped concrete in a flagstone gray slate style is also amazingly beautiful. Both patio designs look extremely realistic if you hire an experienced contractor for the work.
Low Retaining Walls To Line A Plain Concrete Patio
Building low retaining walls around an ordinary concrete patio adds dimension to the patio design. With a few well-placed low columns, you can take your patio design even further.
Patio retaining walls can provide garden space, act as functional seating for outdoor entertaining, and can keep rainwater from pooling on your Columbus concrete patio.
Stained Decorative Concrete Patios
Another affordable way to get a custom patio look for your Columbus home is to stain concrete. Our advice to you is to get the work done by a professional decorative concrete contractor so the results turn out right. It's all too common for DIY jobs to turn out blotchy and odd looking.
Stained concrete can look like a wide array of natural wood and stone such as real marble, cedar or slate. With stained concrete, the surface is flat and not raised like it is with stamped concrete. If you're looking for a Columbus concrete patio specialists, please call Gaddis & Son, Inc. at (614) 252-3109 or complete our online request form.