Bexley Resurfacing Concrete Steps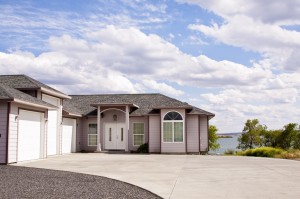 Resurfacing concrete steps brings back the luster and vibrancy they once had, and makes dilapidated ones safe again. The process is simple but must be controlled to keep people from walking on the fresh cement. The steps themselves will be unavailable for three to four days while they dry. Always hire a Bexley concrete contractor for this type of job as there is a method to the madness when it comes to concrete and professionals are the experts.
The first step in the process is to clean the surfaces. Typically, a chisel and hammer are used to knock out the broken surface pieces but care should be taken to keep from breaking underlying concrete. A pressure washer is helpful in completing the cleaning.
The second step is to frame the stairs to keep fresh concrete from pouring over the sides. Using lumber and stakes, you can build a box that surrounds the edges, which will keep the new material nice and neat.
Once the lumber is in place, it is time to begin mixing the concrete paint and mix. The paint is a mixture of cement and water, giving it the consistency of paint so you can brush the first layer onto your concrete steps. Once this is applied, the new mix will bond better. The mix consists of cement, sand and water. Be careful not to make the mix to runny. You should be able to form it within the confines of the lumber box.
The final stage in Bexley resurfacing concrete steps is to allow it to dry about an hour before covering with a plastic sheet. The sheet will remind people not to walk there, and provide a barrier to allow the mix to dry over the next three days. Once this is complete, you may want to apply one more layer of cement paint to give them a nice even look. Call The Columbus Concrete Contractor You Can Count On Today!