Local Columbus Concrete Contractor Reaches Milestone 45 Years In Business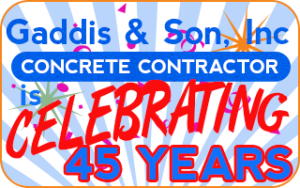 Gaddis & Son, Inc. Celebrates Its 45th Anniversary
January 13, 2016 marked 45 years of providing quality Columbus Concrete contractor services, from basic installation and repair to decorative concrete, commercial projects, and beyond in Columbus, Ohio and the surrounding areas.
Gaddis & Son, Inc. was founded in 1971 by Willie and Vivian Gaddis. Willie was a concrete foreman for a local Concrete Contractor when he and his wife stepped out on faith and began the company. The company's first public works contract was the City of Worthington, Ohio's 1974 Street Improvement Program. Gaddis & Son, Inc. had a role in pouring concrete on many of the major projects that shaped the central Ohio landscape.
Looking Forward To Providing Concrete Contractor Services For Years To Come
"Celebrating 45 years in business is a great and rare achievement," says second generation owner, Randal L. Gaddis Sr. "Gaddis & Son, Inc. is proud to share this milestone with our staff and customers. As Gaddis & Son, Inc. moves into 2016, we look forward to many years to come of providing the highest quality products and workmanship for their concrete construction projects."
Gaddis & Son, Inc. cites a commitment to customer satisfaction and excellent workmanship as key factors in their longevity and credits their dedicated staff for upholding the highest levels of professionalism to earn the trust of their clientele year after year.
About Columbus Concrete Contractor Gaddis & Son, Inc.
Gaddis & Son, Inc. is a Central Ohio Concrete Contractor that has been servicing the community since 1971 and successfully completed over 2,000 jobs. They provide the best in quality concrete construction, products and concrete related services, including Decorative Concrete and repairs. They can take care of small repairs to brand new installments and have residential, commercial and industrial clients. This includes everything from real estate property managers to local, state and federal government agencies. If you are looking for Columbus Concrete Contractor Services, please call us at
(614) 252-3109

or fill out our online request form.