Style Your Bexley Home with Pavers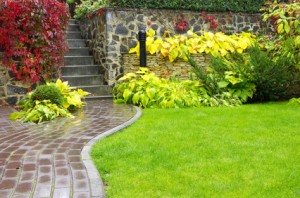 Bexley concrete pavers are used for a variety of reasons such as, beautifying outdoor patios, landscaping features, adding edging to creating pathways, entryways and driveways, paving has never gone out of style.  It is a stylish and low-cost way to bring out your Bexley outdoor space's potential. Concrete pavers are hard smooth blocks that come in different colors and sizes. Because of this, more people prefer them instead of hot asphalt and concrete bricks to improve their homes.
Concrete pavers are good investments as they are relatively low in cost and can last a long time. Here are some tips to help you choose the best kind for your home.
There are many kinds of pavers; examples of this are glass, cut stone, clay tile, cast concrete, and even the most unlikely, plastic. These come in different styles, sizes and color.  However, usage may vary depending on the type you intend to use. It is important to determine what type you need to ensure that they are the right kind for your Bexley job.  The most frequently used for paving are concrete, bricks and natural stone.  Concrete resists fading and are usually very easy to install. Bricks are particularly strong and offer timeless elegance. While natural stones are expensive but very eye-catching.
As paving is done for a variety of reasons, it is also important to know the where to use  certain types of pavers. Concrete is made for Bexley  outdoor use. Brick can be used on driveways, pathways and edging. Natural stone is usually used in walkways, pathways and patios. At least 3' in width is suggested for those to be used in pathways. You should always check the durability of the material if you are planning to use in it in driveways as natural stone tends to break under pressure.  Measure the space your vehicle would take up and make sure that there is enough space to open and close the doors.
Lastly, check for maintenance hassles. Bexley concrete pavers don't usually need too much maintenance so this should not be a problem. Clay is resistant to most stains and does not need sealing. Sweeping and pressure spraying can keep these clean. Resealing can be done every two years in heavy trafficked areas to minimize stains and increase durability. Although expensive, limestone is extremely durable and may not need replacement. It can withstand harsh weather conditions, lawnmowers and weed trimmers. Call The Columbus Concrete Contractor You Can Count On Today!