Spruce Up Your Grove City Home with Decorative Concrete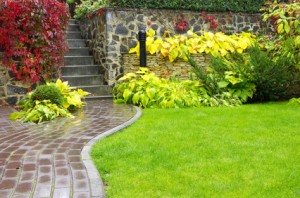 Home improvement doesn't just relate to a stylish and modern interior and well landscaped garden, but also attractive driveways and patios. If you wish to try something slightly different from the norm, then you might wish to look at the available options that come with Grove City decorative concrete. One of the first things that might impress a visitor to your home is the quality of a driveway; a plain drive or pathway can easily spoil the curb side appeal of any home.
Most proud Grove City homeowners today realize that the quality of a driveway can have a great impact on the appearance and marketable value of a property. With such a range of paving and construction techniques, it is now possible to create a truly fantastic look at the front of the home. Long gone are those days when the driveway was restricted to plain bricks and stone. As a driveway construction material, concrete is the most favored and offers a range of options in relation to style and color. Adding in a Grove City professionally installed decorative driveway is a great way to instantly renew the outside appearance of any home.
Grove City decorative concrete comes with many benefits. It is highly adaptable and usable on just about any shaped drive or pathway. Due to the versatility of this material, the design can be adapted to match the surrounding area, such as its ability to match the color of the actual home or boundary walls. If compared to other floor materials, you will quickly notice that concrete is a far sight less expensive, so able to fit within most budgets. Concrete is also a surface material that requires a lot less maintenance then some of the other alternatives available on the market, which means its attractive appearance remains in place of that much longer.
Also, a variety of materials can be mixed with the basic concrete mixture to help in creating a more unique floor design. If looking at the availability of installing a decorative concrete drive or pathway then it often helps to talk to a Grove City professional company who will be able to help you design a surface that is able to match your specific requirements and needs. Make certain to choose a company that has built a reputation for laying concrete surfaces to a high standard. A great way to find a reliable company is to go online and search for prior customer testimonials or comments which praise a particular service provider. Call The Columbus Concrete Contractor You Can Count On Today!