Carroll, OH Concrete Repairs & Installation Contractors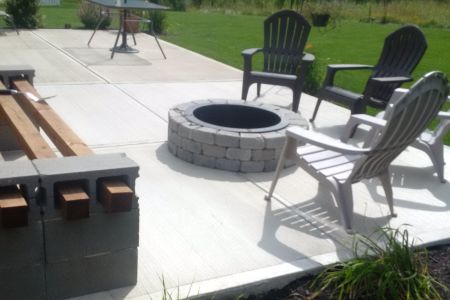 The quality of workmanship during concrete installation can have a significant effect on the stability of the concrete. During placing, finishing, and curing, problems can develop. Also, environmental conditions can affect the results. The ground, air temperatures, wind speed, and absorbency of the substrate also affect newly installed concrete.
During installation, inadequate cover of reinforcement steel can lower the steel's resistance to corrosion. Form concrete is placed in layers and each layer is vibrated when placed. By failing to vibrate the concrete adequately or laying too much concrete in an area at a time, the concrete develops a honeycomb pattern.
All these problems and more can occur when the concrete contractor doesn't have the experience to avoid them. For proper concrete installation, repair, restoration, and replacement, you can count on the expert workmanship of our Columbus concrete contractors. We are local Columbus concrete contractors who serve Carroll. We welcome large and small commercial or residential concrete jobs.
Customer Service Focused Business
BBB A+ Accredited Business
Angie's List 2013 Super Service Award
Commercial & Residential Concrete Contractors
Serving Carroll Since 1971
Established Concrete Company
Concrete Repairs In Carroll
If you have concrete that has developed problems, it's best to take care of the issues as quickly as possible. Many issues can be repaired, but they need to be handled before other problems lead to structural degradation. Our professionals can usually repair concrete, but there are times when the problem has gone on so long that replacement is the only option.
We will need to examine your concrete and advise you on the best way to proceed. Your concrete may need to be tested. A section may need to be replaced. However, many times the repairs are simple. Just give us a call for an estimate and we'll come take a look.
Concrete Crack Repairs
Crumbling Concrete Repairs
Pitted Concrete Repairs
Carroll Concrete Installations
Do you need a new driveway installed? You are going to love the hard surface as opposed to your existing grass or gravel driveway! You won't be dealing with pot holes, mud, and washouts every time it rains. Your shoes will stay nice and clean, and your guests will be thrilled. For professional driveway, sidewalk, patio, and other concrete installations, call Gaddis & Son, Inc. If you are looking for concrete contractors in Carroll, OH, please call Gaddis & Son, Inc. at 614-252-3109 or complete our online request form.