Reliable Gahanna Concrete Contractors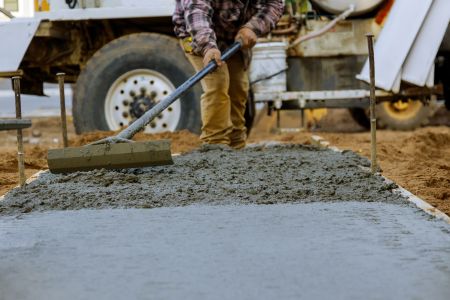 Thank you for stopping by our web page! It is with great pride that we offer you an opportunity to browse through some of our work and information. At Gaddis & Son, Inc. we specialize in, and provide Concrete Contractor Services. Established in 1971 by Willie and Vivian Gaddis, we successfully complete hundreds of projects each year. As an established firm in the Columbus and surrounding areas, we have made it our mission to meet the needs of our clients as well as to provide a Safe and Healthy place to work.
We have earned our A+ rating as an Accredited Contractor through the Better Business Bureau by focusing on offering the best customer experience. This means making sure all work meets the expectations of clients, and resolving issues with clients.
Because of its durable characteristics, Concrete remains in popular demand across the globe. Here in Gahanna, Ohio we have the unique opportunity in bringing this exceptionally talented product straight to your door step; literally! Our product and services range in size and scope; anything from minor repairs to major infrastructure. We perform Interior Concrete Slab placement, Curbs, Sidewalk, Patios, Steps and even Concrete Loading Docks. We also provide Decorative Concrete Contractor Services.
Professional Gahanna Concrete Services
As the premier option for a Gahanna concrete contractor we pride ourselves on offering plenty of jobs to our customers. At Gaddis & Son, Inc. we have gathered a lot of important information over our past 40 years in business; and all of that helps us to provide you with the best service possible. Whatever your concrete related project is, let our team of experts handle it for you. 
One of our more popular services happens to be restoration. Concrete repair, restoration and general maintenance is basically a more budget-friendly way to go, when possible. At Gaddis & Son, Inc. we are always looking for the most cost and time efficient approach to take to complete a job for a client. Restoration is the technique of fixing up busted concrete then cleaning it and applying a sealant for protection.
Depending on the amount of damage, some cracks can be repaired using epoxy. If the damage is too severe the concrete may require resurfacing. All of these are alternatives we regard before opting for replacement unless absolutely necessary or requested by the client. Customer satisfaction is always our top priority.
Concrete Repairs in Gahanna
The list of reasons why restoration issues should be addresses is numerous. And as the top choice for a concrete repair contractor in Gahanna we have already successfully accomplished the completion of over 2,000 projects since first launching the business in 1971. We certainly recognize and respect the need for quality concrete restoration work. 
Obviously, this takes care of unsightly blemishes in broken concrete. But the real concern is for the structural aspect. Cracks are signs of weak spots that can easily develop into something much more severe. We have all seen what happens to a sidewalk with cracks; over time those cracks deepen until the walkway breaks apart. Not only does the project then become more costly and time intensive but it is also a huge liability.
Gahanna Decorative Concrete
Another popular service we provide for local customers is our Gahanna decorative concrete. This is an ornamental and practical surface material that is perfect for projects where looks do matter. There is no point in having just a cold, grey and unwelcoming driveway when you could go this route.
We offer the finest quality of stamped concrete that comes in a huge range of color choices. Plus you get to chose your finish. These are all alternatives we can review with you during a consultation. One thing is certain, whatever your concrete related project is, we can take care of it. For all of your Gahanna concrete contractor work trust the Gaddis & Son, Inc. name. If you are looking for a concrete contractor in Gahanna, please call Gaddis & Son, Inc. at
(614) 252-3109

or fill out our online request form.