Your Dependable Marysville Concrete Contractors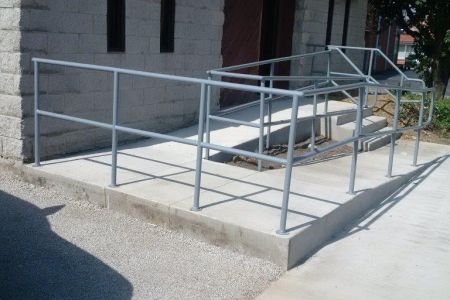 For more that 40 years, Gaddis & Son, Inc has been providing high quality concrete services to homeowners, and over the years we've developed a reputation as the most trusted dependable Columbus Concrete Contractors in the Marysville area. If you're looking to build a new concrete structure, or you need repairs or restoration services for a structure that is already on your property, our team of professionals are ready to tackle the job. No matter what concrete project you're working on, we'll make sure that you're getting high quality service and the best possible final results.
Our professionals can handle the work for any type of concrete-related project in Marysville, whether you need repairs & restorations, a new installation, or decorative concrete, and we can always guarantee your complete satisfaction with our work. We'll complete our work in a timely and cost-effective manner, and we won't consider our job done until your concrete is in excellent condition. Our only goal is your satisfaction, and we'll do whatever it takes to achieve that.
Give us a call today to schedule your appointment, or to ask any questions you have about the services we provide, and we'll be looking forward to assisting you.
Concrete Repairs in Marysville
Whether it's a sidewalk, driveway, or patio, you need to keep the concrete structures at your home in great condition and always looking their best. When any of your Marysville home's concrete structures suffer any damage, our professionals will be able to completely repair them and restore them to like-new conditions. We've completed over 2,000 concrete projects since our business was founded in 1971, and you can trust us for thorough and accurate repairs.
Our repairs won't just take care of unsightly damage to concrete—we'll make sure that your concrete is structurally repaired. When concrete begins crack, it often means that structural damage is taking place, and that weak spots can quickly turn into much more serious issues. If the cracks are left untreated, they'll quickly deepen, and the structure of the concrete will break apart.
Our professionals can tackle these problems before they turn into a major issue.
Marysville Decorative Concrete
Installing decorative concrete is one of the of the best and most popular services that we offer. Our decorative concrete surfaces are the perfect blend of functional and attractive, so they're a great choice for many different parts of your Marysville home. With decorative concrete, you'll be able to create a totally customized, attractive exterior feature that will enhance both the appearance and the functionality of your home.
Whether you're adding a concrete patio, driveway, or any other feature to your home, decorative concrete can be the perfect new addition. If you're looking for a concrete contractor in Marysville, call Gaddis & Son, Inc at 614-252-3109, or fill out our online request form.