Qualified Reynoldsburg Concrete Contractors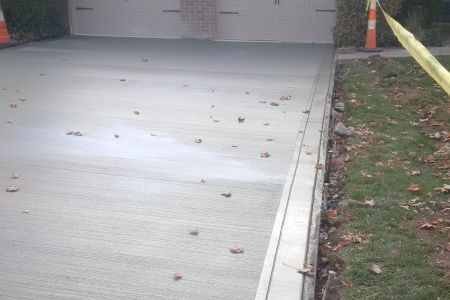 At Gaddis & Son, Inc. we have become the leading choice for Reynoldsburg concrete contractor services for plenty of important reasons. For one thing, we make it a point to try to offer as many quality services to our clients as possible. We have been around since 1971 and have seen quite a lot of changes and advancements over the past four plus decades. Staying up to date with these changes is part of what has made us number one.
But it is also simply about making it a point to offer the best in quality services our customers could need. For example, consider our restoration services. While other companies usually try to convince you to move straight to expensive replacement that makes the company more money we try to focus on tasks like repair and restoration before replacement.  
Restoration is the practice of mending busted concrete and then cleaning it up. Finally, a sealant is applied to help with future protection. The approach we take relies heavily upon the severity of the damage. If cracks are left untreated they can develop into much bigger problems and may be beyond repair.
Concrete Repairs in Reynoldsburg
Being the best concrete repair contractor in Reynoldsburg also means taking care of certain services other companies cannot. For example, we are able to offer ADA compliant services for our clients. This is an important measure to take in order for your family members at home or customers at your business to be able to gain access and have mobility.
To take on this type of work though you have to be trained in the specific guidelines in order to be in accordance with the regulations. Faulty work can lead to hefty fines plus the need to take out the work and complete it correctly. Don't take chances when it comes to your ADA concrete work; let the trusted pros at Gaddis & Son, Inc. handle it for you.
Reynoldsburg Decorative Concrete
Let's not forget to discuss one of our most popular service choices – decorative concrete. We are the premier provider for Reynoldsburg decorative concrete and repairs. This is a decorative and functional surface material option that will give your project a more appealing look. So for anything you do that you would rather not have in utilitarian grey, decorative concrete may be right for you.
At Gaddis & Son, Inc. we have a variety of stamped looks in an assortment of colors. Not to mention, you even get to choose the finish to really individualize the final look. Contact us now to let us show you firsthand how we became the Reynoldsburg concrete contractor of choice. If you are looking for a concrete contractor in Reynoldsburg

, please call Gaddis & Son, Inc. at

(614) 252-3109

or fill out our online request form.