Partnering with Sunbury's Preferred Concrete Contractor for Exceptional Results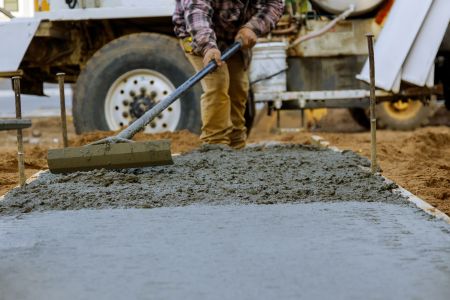 When it comes to concrete projects in the Sunbury area, partnering with the preferred concrete contractor, Gaddis & Son, Inc., is your key to achieving top-quality results. With a stellar reputation built on years of experience and a commitment to excellence, we have become the go-to choice for residential and commercial clients. Our dedication to delivering superior craftsmanship and unmatched attention to detail ensures that every project we undertake in Sunbury exceeds expectations.
At Gaddis & Son, Inc., we understand that a successful project begins with clear communication and meticulous planning. Our skilled professionals will work closely with you to understand your unique requirements and design preferences. Whether you're looking to install a new concrete driveway, create a decorative concrete patio, or undertake a commercial construction project, we have the expertise and resources to bring your vision to life. When you choose Gaddis & Son, Inc., you're choosing a concrete contractor committed to quality, reliability, and the highest standards of workmanship, ensuring that your project in the Sunbury area will stand the test of time.
Expert Concrete Installation by Skilled Sunbury Contractor Professionals
When it comes to concrete installation in Sunbury, you can trust our team of skilled professionals at Gaddis & Son, Inc.. Our experts bring years of experience and deep knowledge of concrete construction to every project, ensuring precise and reliable results. Whether you're planning a residential renovation, a commercial construction endeavor, or any concrete-related work, our commitment to excellence shines through in every detail. Choose Gaddis & Son, Inc. for your Sunbury concrete installation needs, and experience the difference that true expertise and professionalism can make in achieving a successful and lasting outcome.
Elevate Your Sunbury Property: The Transformative Power of Decorative Concrete Installation
Decorative concrete installation is gaining popularity among Sunbury property owners seeking to elevate their spaces' visual allure and functionality. Here are several key ways in which opting for decorative concrete can work wonders in enhancing and upgrading your Sunbury property:
Unparalleled Aesthetic Appeal: Decorative concrete offers many design possibilities, including intricate stamped patterns, richly stained surfaces, and the allure of exposed aggregates. These versatile options enable you to craft visually captivating surfaces that effortlessly emulate the luxurious look of high-end materials like stone or tile.
Increased Property Valuation: Embracing decorative concrete isn't merely an investment in aesthetics; it can substantially bolster the value of your Sunbury property. Its resilience and enduring beauty make it an enticing feature for potential buyers or tenants, translating into increased property value.
Resilience and Longevity: Beyond its visual appeal, decorative concrete is engineered to withstand Sunbury's dynamic weather conditions and high-traffic areas. It remains robust and visually appealing for extended periods, reducing the need for frequent maintenance or replacements.
Low-Maintenance Charm: Unlike certain other decorative materials that demand substantial upkeep, decorative concrete boasts a relatively low-maintenance profile. Routine cleaning and occasional sealing typically suffice to preserve its pristine appearance.
Eco-Friendly Attributes: Many Sunbury residents are drawn to the environmental conscientiousness of decorative concrete. It incorporates sustainable materials and yields minimal waste, aligning perfectly with a more eco-responsible approach to property enhancement.
The installation of decorative concrete presents a versatile and pragmatic solution for accentuating your Sunbury property's overall charm, worth, and durability. It seamlessly fuses aesthetics with functionality, rendering it a stellar choice for property owners keen on striking the perfect balance between visual appeal and resilience. Call today for concrete contractor services in Sunbury. Call The Columbus Concrete Contractor You Can Count On Today!