In Need of a Upper Arlington Concrete Contractor?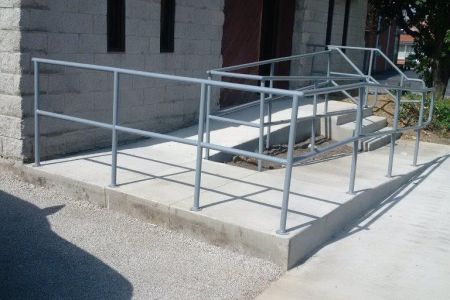 Thank you for stopping by our web page! It is with great pride that we offer you an opportunity to browse through some of our work and information. At Gaddis & Son, Inc. we specialize in, and provide Concrete Contractor Services. Established in 1971 by Willie and Vivian Gaddis, we successfully complete hundreds of projects each year. As an established firm in the Columbus and surrounding areas, we have made it our mission to meet the needs of our clients as well as to provide a Safe and Healthy place to work.
We have earned our A+ rating as an Accredited Contractor through the Better Business Bureau by focusing on offering the best customer experience. This means making sure all work meets the expectations of clients, and resolving issues with clients.
Because of its durable characteristics, Concrete remains in popular demand across the globe. Here in Upper Arlington, Ohio we have the unique opportunity in bringing this exceptionally talented product straight to your door step; literally! Our product and services range in size and scope; anything from minor repairs to major infrastructure. We perform Interior Concrete Slab placement, Curbs, Sidewalk, Patios, Steps and even Concrete Loading Docks. We also provide Decorative Concrete Contractor Services.
Experienced Upper Arlington Concrete Contractors
When it comes to finding the right Upper Arlington concrete contractor you need to know the name to rely on is Gaddis & Son, Inc.. And it has been that way since we first launched the business in 1971. Over the course of those 40 plus years we have wrapped up over 2,000 successful jobs. We also have been able to earn and retain an A+ rating with the Better Business Bureau as an Accredited Contractor with zero complaints.
We have made it our goal to focus on offering the finest of quality concrete products, construction and services. We are able to also offer a wide assortment of projects from new installation to mending minor repairs and everything in between. We also take care of construction of detailed jobs like curbs, pads, concrete loading docks and so much more. We are ready, willing and more than eager to show you firsthand how we earned the reputation we have.
Concrete Repairs in Upper Arlington
There are plenty of reasons why we are the top choice for a concrete repair contractor in Upper Arlington. Just looking at the variety of professional level jobs we offer to our customers is one reason. For one thing we offer the best in concrete repair and construction for:
Concrete Pads
Concrete Curbs
Concrete Sidewalks
Concrete Patios
Concrete Steps
Concrete Loading Docks
And more
We know what it takes to get the job done and to make sure the customer is 100% satisfied. When it comes to performance we meet and exceed the client's project needs, including deadlines and budget restraints. We also keep safety in mind with every task we perform. This means also making sure all of our team members have the required licensing and bonding even though other companies may not bother with this step.
Upper Arlington Decorative Concrete
We use the same high standards for our Upper Arlington decorative concrete and repairs jobs. This has quickly become a popular choice for home and business owners who want to make a bold statement. Until now, the only option you had when using concrete was the uniform and utilitarian grey.
We have a variety of stamped patterns and colors that make all the difference. You can even select the perfect finish for your project. Let our experts work with you to make the best choices for whatever project you are working on or planning. Don't just take our word for it; let us show you personally how our quality work earned us the reputation for being the best Upper Arlington concrete  contractor.
Reviews and Testimonials for Gaddis & Son, Inc. in Upper Arlington
You guys did a great job with the slab replacement for our porch. It still looks great, and I haven't had any water in my basement since you repaired it. Thanks again. If you are looking for a concrete contractor in Upper Arlington, please call Gaddis & Son, Inc. at
(614) 252-3109

or fill out our online request form.