Professional Westerville Concrete Contractors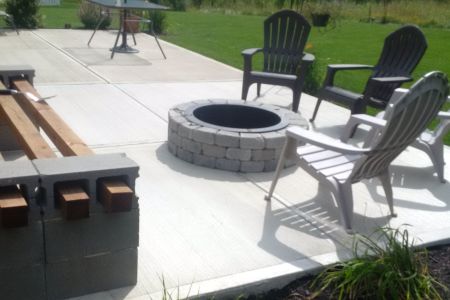 Thank you for stopping by our web page! It is with great pride that we offer you an opportunity to browse through some of our work and information. At Gaddis & Son, Inc. we specialize in, and provide Concrete Contractor Services. Established in 1971 by Willie and Vivian Gaddis, we successfully complete hundreds of projects each year. As an established firm in the Columbus and surrounding areas, we have made it our mission to meet the needs of our clients as well as to provide a Safe and Healthy place to work.
We have earned our A+ rating as an Accredited Contractor through the Better Business Bureau by focusing on offering the best customer experience. This means making sure all work meets the expectations of clients, and resolving issues with clients.
Because of its durable characteristics, Concrete remains in popular demand across the globe. Here in Westerville, Ohio we have the unique opportunity in bringing this exceptionally talented product straight to your door step; literally! Our product and services range in size and scope; anything from minor repairs to major infrastructure. We perform Interior Concrete Slab placement, Curbs, Sidewalk, Patios, Steps and even Concrete Loading Docks. We also provide Decorative Concrete Contractor Services.
Reliable Concrete Services
You don't have to settle for less than the best when it comes to your Westerville concrete contractor. Since 1971 Gaddis & Son, Inc. has been the top choice for this line of service. So if you care about your home or business then you will want to work with our team to complete your job.
Over the past 40 plus years we have learned so much about the industry including how to take the best care of each customer. Every client has unique needs and so it is important to be able to honor that. While other companies focus on the bottom dollar we focus on giving you the best overall experience. This approach has earned us a top customer service rating and an A+ with the BBB as an Accredited Contractor.
We offer a variety of important services including repairs, restoration and resurfacing. We will always try to utilize the most cost effective and time saving approach for your project. So we only turn to the alternative of replacement if that is the only option or if requested by the client.
Concrete Repairs in Westerville
So what can our team here at Gaddis & Son, Inc. do for you? As the number one concrete repair contractor in Westerville we make it a point to try to offer a variety of important services for all of your concrete needs. We offer services including but not limited to:
Decorative Concrete
ADA Compliance
Park & Site Furnishings
Concrete Restoration
Concrete Resurfacing
Concrete Installation and Repair
Some tasks, like ADA Compliance, are not the type of service just any contractor can take care of. This takes special training and knowledge in order to be in compliance. Make any mistakes and you could be facing steep fines and penalties; possibly even legal consequences. So make sure you only work with the trusted name – Gaddis & Son, Inc..
Westerville Decorative Concrete
As far as offering unique services you can't find elsewhere, here at Gaddis & Son, Inc. we also provide our customers with Westerville decorative concrete and repairs. This is a fairly new division of the industry; stamped concrete is an advancement that makes it possible to do without the boring gray.
We offer a variety of stamped designs in an array of colors and even with the finish you choose. Don't settle for drab looks for projects like walkways or patios. With this innovative approach you could make your concrete the focal point and for good reason. Contact us now so we can show you why we are the top company for Westerville concrete contractors. If you are looking for a concrete contractor in Westerville, please call Gaddis & Son, Inc. at
(614) 252-3109

or fill out our online request form.